Watch Video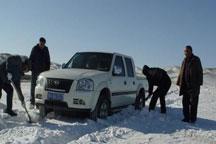 Play Video
With blizzards continuing to sweep through North China, the country's Inner Mongolia has been among the worst-hit areas. Heavy snow has blocked more than 2000 kilometers of roads, threatening the livelihood of local herdsmen.
This is the most convenient road into town for local herdsmen.
But when CCTV's reporting team tried this road, we got stuck.
Luckily, local border police came to our rescue.
Chao Xing, Instructor of Yihegaolesumu Border Police Station, said, "As soon as winter comes, the snow gets heavier and the roads get blocked. This brings a lot of inconvenience to local herdsmen, so we go to the spot as soon as we get a call."
This part of the road is now covered with snow, but the police just cleared it three days ago.
And hindering their work is not just the weather.
Narenmenghe, Deputy Director of Abagaqi Transportation Bureau, said, "Our two trucks are just NOT enough. There are over 620 kilometers. We' ll have to work for a whole week to cover it all".
Truck driver Ma Jiangbo hasn't gone home for five days.
"Sometimes I work till 3 or 4 o'clock in the morning", he says. "We come here as soon as it starts to snow."
These local herdsmen have driven an extra 200 kilometers to bypass the snow. Now following the snow remover, they couldn't wait to get home.
"It's very urgent. The old people in my family are sick. I have to go look after them, " said one.
Finally they hit the road home.
Herdsmen need trucks to get grass for the livestock. When the roads are blocked, not all vehicles can make it through.
And this could mean, more herdsmen's livelihoods are on the line.
Related stories
Editor:Zheng Limin |Source: CCTV.com