Watch Video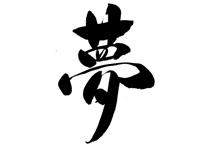 Play Video
2012 is drawing to an end, and the Chinese character of the year has been announced. Characters and words were selected from print media, TV, radio and the Internet across the country in 2012, and the winner was chosen by the National Language Resource Monitoring and Research Center, Commercial Press and China Network Television. For more on that, we are joined by my colleague Li Kefu in the studio.
Q: Tell us what is the character of 2012?
A: "Meng", the Chinese character for dream, has been named the Character of the Year in 2012. Why "Meng"? Some say that "Meng" is considered to reflect the realization of China' dreams in the past year: from space exploration to the first Chinese Nobel Prize-winning author, from China's first aircraft carrier to China's great performance at the 2012 London Olympics.
Many dreams have come true and many more are to be accomplished, I guess that's why "Meng" was named the character of the year. Other top choices include "Diaoyu Dao", the Diaoyu islands, which was chosen as the term of the year, because of the dispute with Japan; "Heng", meaning check and balance, was chosen as the International Character of the Year, as it reflects people's concern over the balance of power in the world; and "Xuanju", meaning election, was chosen as the international term of the year. It shows people's interest in elections across the globe in 2012. These are the official characters of the year, but what do ordinary Chinese choose? Let's hear what they had to say.
Editor:Zhang Jingya |Source: CCTV.com