Watch Video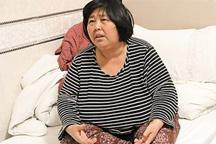 Play Video
The fire in Lankao has also sparked a public debate. For 25 years, Yuan Lihai fostered orphans or abandoned children, most of whom have congenital diseases. But she did this without a license to adopt, nor was she entrusted by any licensed organization. Are her de facto adoptions an act of benevolence? Or do they, as some suspect, have a darker side?
Yuan Lihai, formerly named Yuan Fengying, was born in 1966. She has two sons and a daughter, who are now all living independently.
In 1987, Yuan ran a small street side business outside the People's Hospital of Lankao County, where she often found abandoned babies and young children. She took them home and raised them. And her home quickly became known as a private orphanage. Yuan had even been interviewed in 2011.
Yuan said, "I've taken in more than a hundred abandoned children. Some died, some were given to other childless families, and some are here with me. The oldest is a boy, and Xiao Ni, she's 20 years old and lame, she's married and pregnant now."
But when the Adoption Law came into effect in 1991, what she has done and was still doing, became illegal.
Wu Changsheng, Vice County Magistrate of Lankao county gov't, said, "Yuan Lihai has children of her own. She also doesn't have the economic means to adopt such large numbers. Moreover, she hasn't registered for adoption at all in the local civil affairs department. So she doesn't meet the criteria."
There's no children's welfare center in Lankao County, only a help center. The civil affairs department was acquiescent to Yuan Lihai's actions in the past 25 years.
Yang Peimin, Director of Lankao county Civil Affairs Bureau, said, "Her adoptions can be traced back to 1987, it had been almost 30 years. But back then there was no Adoption Law, so her actions didn't break any laws."
Yuan and the children taken under her care live in poor conditions. There aren't even enough beds.
Some are questioning why local authorities never provided assistance to Yuan and the children.
Yang also said, "There's no children's welfare center in the county. We are applying to build one. For private adoptions as such, we are willing to help but incapable of doing so."
There are speculations that Yuan may have been profiting by giving the children away. But Lankao Civil Affairs Bureau said there is no evidence of this.
Yuan Lihai was transferred to hospital from the police station on Saturday night after suffering a heart attack.
Her son Du Peng said online, "My mother is a good person, she devoted her life to adopting homeless children. I just wish she stay safe and healthy."
Editor:Zhang Jianfeng |Source: CCTV.com