Watch Video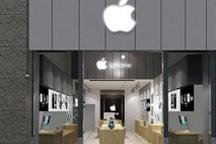 Play Video
Apple products have become hugely popularity in China. For many, Iphones and ipads are "must-have" accessories, particularly in urban areas. The company's stores are often overflowing with customers trying out the latest gadgets, but there's now a controversy brewing over Apple's warranty and repair policy, and concern that Chinese consumers are being given a rough ride.
In a recent interview, Apple CEO Tim Cook said China will soon become Apple's biggest market. Just walk past any Apple store, and that's certainly how things seem to be going.
But voices of complaint are coming from some Chinese consumers, over Apple's after-sales service.
The company offers a global warranty period of 1 year - that's the same whichever country you are in. But Chinese law states that warranties on computer sales MUST be at least two years.
All companies have their own policies. But they should all abide by the laws and regulations of the countries that they operate in.
But the biggest complaints have been about HOW Apple deals with faulty products.
In the United States, Australia, South Korea and the European Union, defective iPhones can be replaced with a brand-new one during the one-year warranty period.
Chinese customers don't have that option, and have to have them repaired.
"I think there should be no difference between Chinese and foreign Apple users. Apple should guarantee the legal rights and interests of its Chinese fans."
The controversy erupted after a consumer protection TV show in Mid-March. Since then Apple has made two statements, denying discriminatory practices in China.
Legal experts are not buying it.
Qiu Baochang, legal team leader of China Consumers Association "Apple says Chinese consumers enjoy the highest standard of service. This is a false statement. It's a fact that the company gives brand-new replacements in other countries, but in China the warranty does not cover the outer casing. I think Apple is ducking the issue."
Chinese consumers are holding firm stance on the issue.
"Apple needs to be stronger in after-sales. A product's popularity not only depends on its quality, but also after-sales service. Other products do better in this area. If Apple continues like this, we will choose other products."
Last year, Apple was forced to modify the terms of its after-sales service in South Korea, after a customer sued the company for replacing her defective iPhone with a refurbished one. Some Chinese netizens have called on Chinese consumers to mount a similar challenge.
Apple sales in China increased by 67% in the first financial quarter of this year. The company's annual income in China, including Hong Kong and Taiwan, is growing at a rate more than twice that of Japan. It's also faster than the US and Europe.
It remains to be seen whether this global tech giant will be pressured to respond to the complaints, as its market in China becomes an ever-bigger part of its global operation.
Editor:Bai Yang |Source: CCTV.com