Watch Video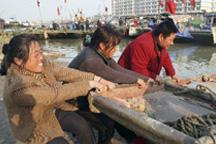 Play Video
By CCTV reporter Li Nan
The spring fishing ban has been put in place in 10 provinces along the Yangtze River for ten years since 2003. Every year from April to June, local fishermen stop fishing, to protect the breeding and growth of local water species. As the no-fishing season comes again on April 1st this year.
Yang Nianxiong is a fisherman in Yichang, Hubei Province. His father taught him how to fish when he was 12 years old.
Boating, finding the right spot, casting nets, and pulling the harvest, those have been Yang's daily routine for the past 35 years, and how he feeds his family. But during recent years, his life hasn't been easy.
Yang Nianxiong, fisherman in Yichang, Hubei, said:"This is a perfect spot to fish. In the past I could lay nets here, collect on the second morning, and a rich harvest could be guaranteed. But now I might easily go empty-handed."
Unfortunately, Yang did not get the long-waited harvest the second day. Two small fish were all he got the next morning.
And that was the last fishing day this spring for Yang and other fishermen in the region, as the city of Yichang has issued a three-month fishing ban within its scope along Yangtze River, starting from April 1st.
He Guangwen, director of Fishery Bureau, Yichang, Hubei, said:"Our spring fishing ban is to protect the spawning and breeding of local fish streams. Without it, fish stock in the Yangtze River could hardly recover from intensive fishing activities."
As a result of water projects, marine pollution and overfishing, the fish resources in the Yangtze River have been sharply declining in recent years. Some rare species have already died out or are facing extinction. Experts even suggest that a ten year fishing ban is much needed.
Cao Wenxuan, academician at Chinese Academy of Science, said:"Fish resources have dropped sharply under our eyes. Just a season-long fishing ban every year is not enough to do the damage control. I suggest we stop fishing completely for a decade, and allow the wild species to recover."
According to industry reports, the volume of natural fishing in the Yangtze River has dropped from 540 thousand tons in 1954, to around 100 thousand tons in 2012.
Related stories
Editor:Qin Xue |Source: CCTV.com