Watch Video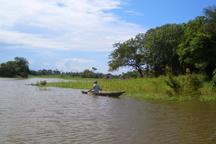 Play Video
The Amazon river basin covers 40% of South America. It is famous not only because of its size, but also because it incubates the biggest, most unique and most magnificent tropical rain forest in the world. What is it like?
The Amazon rainforest functions as a giant air machine that absorbs a large amount of carbon dioxide, and produces oxygen. That is why it is often called the "Lungs of the Earth." Running through the forest, is the second longest river in the world and the largest by water flow...the Amazon River. There are more than one thousand tributaries of the Amazon River, and they resemble capillaries of the "Lung of the Earth", nurturing the biggest rainforest on earth. One of the most fascinating aspects of the Amazon is its "medicinal plants".
Marisa, a tour guide, said:"Indian people use this fruit to paint their faces. I'm now painting it on you. You are like a tribal person now."
Marisa says this juice can prevent bites from poisonous insects in the rainforest.
It's a lush rainforest with densely located trees woven with creepers and vines. From top to bottom, each layer of the forest is vibrant with life. It's not surprising that materials for more than one-fourth of world's medicines come from the plants here.
Marisa said:"This is Cinchona. It is used to produce medicine that cures malaria. It can also be used to make Tonic water"
Equally as famous as Cinchona, the Cat's Claw Vine can be used to treat arthritis, cancer and many infectious diseases.
Fu Bei said:"This is a special vine in the Amazon rainforest. It is called the vine of the tortoise in the local language. Local residents use this to stop bleeding. Cut a piece of this plant and place it on the wound. The bleeding will be stemmed"
On average, a new species is found in the Amazon every three days. Still, there are estimated to be more than twenty thousand kinds of unknown plants. The biodiversity of plant species is the highest on Earth in the Amazon basin. Therefore, the Amazon rainforest is also regarded as world's Botanical Treasure-house.
Editor:Qin Xue |Source: CCTV.com