Watch Video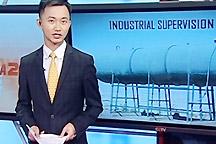 Play Video
Forestry officials say that the second phase of that sand-fighting program will be launched later this year and more progress can be expected in the future.
Q1: Desertification is just one reason behind China's severe air pollution problems. The State Council has recently adopted a set of concrete measures to counter air pollution. How will these measures improve air quality?
A1: Well, the State Council is calling its latest move to fight air pollution "tough measures for tough tasks." There are altogether ten specific measures in the State Council statement, and they mainly target the following three aspects. First, industrial supervision. There will be stricter controls for industries that produce large amounts of waste and pollution.The statement vowed to further promote clean production and set a goal of reducing key industries' emissions of major air pollutants by at least 30 percent by the end of 2017. Next, contingency plans. During periods of heavy pollution, local governments should enact emergency response measures, such as imposing traffic restrictions or emission limits for polluting industries. Then, more transparency. The government plans to establish discharge standards for key industries and require heavily polluting companies to publicize environmental data. A ranking of air quality in major cities should also be made public. Back to you.
Editor:Yang Jie |Source: CCTV.com