By CCTV reporter Wu Haojun
It's said that if you don't go to Jokhang Monastery, you haven't really been to Lhasa. The monastery's weathered murals are an important reminder of its history. Murals here are now undergoing the most extensive restoration in their 1,300-year history.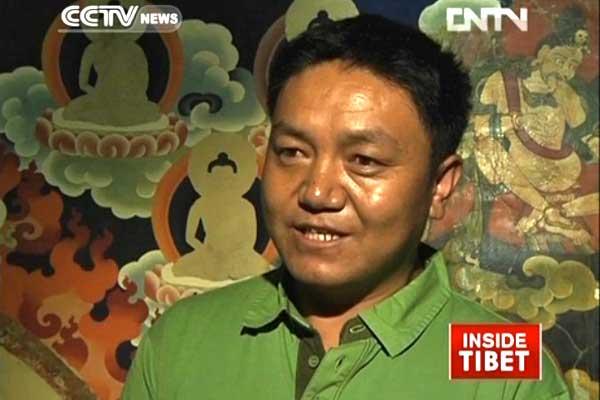 Tenzin Chopel, seasoned Thangka artist and muralist.
"Here at the Jokhang temple, one of the most sacred sites in all of Tibet, history is written all over the walls in the form of ancient murals. But time has taken its toll."
Many of them, are in dire need of restoration. some of them are barely visible today.
This is where Tenzin Chopel comes in. A seasoned Thangka artist and muralist. Since being apprenticed to his mentor at the age of 11, he's walked the aisles of many sacred temples across Tibet. 3 decades later, he still applies every brush stroke in the way he was taught.
But for many Tibetans like Tenzin, the murals within Tibet's most sacred sites are much more than just art. They offer a rare glimpse into ancestral history and offer wisdom and possibly even a road to enlightenment.
"Most Tibetans are Buddhists. And so am I. I cherish my job because it's also an important part of my spiritual life." Tenzin Chopel, Muralist said.
With murals the size of 10 basketball courts to repair, the work at Jokhang is certainly not a one man job. Before Tenzin comes here to apply his art, here at stage 1, some new techniques offer a state-of-the-art helping hand. What they are doing here may not seem very special.
"But, the secret lies in the materials used in the restoration. For example, this new kind of adhesive was developed just a few years ago, but it's said to be able to last a century."
What Tenzin is doing here is truly a labor of love and dedication. This important work at Johkang Temple will allow visitors to rediscover some of Lhasa's precious hidden treasures.
Editor:James |Source: CCTV.com