Watch Video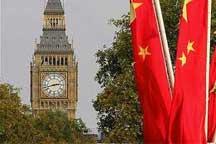 Play Video
By CCTV correspondent Teressa Siu
Boris Johnson today has called for closer academic exchanges between China and Britain. Britain is looking at bringing 5,000 students to study in China each year. It says the China experience will make the younger generation better employees and culture ambassadors.
Holly Holdsworth is banking on the China experience to boost her credentials to work in Asia after she graduates.
"I'm interested in business in Asia. I'm writing a desertion about how China invests in overseas companies." Holdsworth said.
Britain recently launched Generation UK - to bring more and more British nationals to study or work in China.
"We hope to create a new generation of culturally astute students, mount people who could engage well with the world's biggest growing economy meaning China." Jazreel Goh, director of Cultural & Education Section of British Embassy, said.
4,250 students from the UK studied in China last year. Britain aims to increase that number to five thousand per year. It wants to create more success stories like Ralph Rogers'. A year in China meant smooth sailings for his career.
"I walked into my first job because I could speak Chinese for the British regional government. I wouldn't be director of British chamber of commerce in China if I didn't speak Chinese." Rogers said.
Education experts say China's universities are well known for providing quality education. Last year, about 320,000 overseas students came to China. The majority from South Korea and United States. China now especially wants to attract a larger enrolment from EU member states.
Despite Europe as the second-largest destination for Chinese students abroad, only 35,000 came to study here last year.
Reporter: "As China emerges as the world's biggest economy, experts say it's natural that foreign countries to have an eye on China as a choice for studying abroad. China expects About 500,000 foreign students by 2020' making it the largest Asian destination for international students."
Editor:Zhang Rui |Source: CCTV.com