Watch Video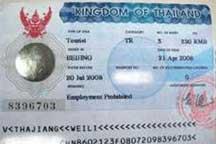 Play Video
By CCTV reporter Wang Xinye
Chinese premier Li Keqiang has said to the Thai Parliament that the Chinese government is willing to hold talks about bilateral visa exemptions for tourists from the two countries. The news is being called "exhilarating" by the Chinese tourism industry. Our reporter Wang Xinye talked to travel agencies and tourists for their opinion on the new policy.
Travel between China and Thailand is likely to become very easy. Chinese Premier Li Keqiang has sent out signals of bilateral visa exemptions between China and Thailand, saying it will offer Chinese and Thai tourists more convenience. And Chinese travelers are looking forward to it.
"Some of my friends were planning to go to Thailand and we heard the visas may be waived, so now I'm also planning a trip to Thailand."
According to the Tourism Authority of Thailand, China is now the biggest source of tourists to Thailand and is growing rapidly. Over 3 million Chinese visited Thailand in the first 8 months of 2013, up nearly 90 percent over the same period of 2012. And visa exemptions may bring Chinese tourists to more places in Thailand than before.
"More people will join our travel groups to Thailand. And paperwork will be simplified so we can bring our tourists deeper in Thailand to some small cities to make their trip more interesting." Li Mei, director of SE Asia Division of China International Travel Service Ltd., said.
A Thailand based travel service consultancy the Thai-Chinese Tourism Alliance Association believes about 5 million Chinese will visit Thailand next year with a visa-free policy.
"The price has come to a reasonable level after the new travel law was put into power. And Chinese tourists are sensible of travelling. So whether there will be a boom depends on the choice of our clients." Li said.
Li Mei said compared with group tourists, individual travellers will be mostly benefited. Applying for a Thai visa takes between 3 to 5 days and costs about 240 yuan for Chinese citizens. For those living in smaller cities, they need to hire travel agencies to mail the documents to the Thai Embassy or consulate. If the visa is waived, a "Do it yourself" trip to Thailand will be no harder than travel within China.
Related stories
Editor:Zhang Rui |Source: CCTV.com