Watch Video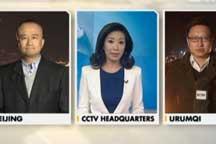 Play Video
It's been 3 days since the Tiananmen Square terror attack killed 5 and injured 38. The site has been cleared and the iconic tourist site is back to normal. On Wednesday, the Foreign Ministry criticized the attack, calling it inhumane and anti-society. Full story >>
Now for the latest, Han Bin joins us live from Beijing's Jianwai, close to Tian-an-men square, and Guan Yang is in Urumqi, capital of Northwest China's uygur autonomous region.
Wang: Han Bin, starting with you. You have been to the Square yourself, how does it feel today?
Han: Around Tiananmen and beyond, residents are still talking about the terrorist attack.
The investigation is still going on, and police are doing what they can to prevent anything like this from happening again.
Chinese authorities are ramping up anti-terrorism measures four days after the terrorist attack at Tiananmen Square. Five people, all of whom are Uyghurs have been arrested in connection with the attack. Security officials are on high alert to prevent any other terror related incidents.
Tiananmen is the symbolic heart of China.
This week's attack has sent shockwaves across the country.
"I hope they will strengthen security checks and add more police."
"It's important for the government to look behind this crash to better secure the safety of Beijing's citizens."
Security has been tightened.
Police patrols have increased.
Reporter: "Well the increased security presence can be felt across Beijing and nowhere more so than here, the Tiananmen East Gate subway station. This station was shut down hours after the attack and even now authorities are taking no chances and all commuters are under close watch."
Most of the government's anti-terrorism work will be behind the scenes.
The terror alert has been raised.
"We need to investigate more to understand the nature of these activities and investigate accordingly. /But I think if indeed it's very well planned there may well be other activities to follow then I think there's a need to raise the alert level." Said Xue Lan from Tsinghua University.
"We need to improve our emergency responding system which also includes the criminal investigation system and the information release system if we can do better maybe we can learn a lot from our experience." Said Du Fang from People's Public Security University of China.
Reporter: "In less than a fortnight the Communist Party of China will begin its key plenary session, outlining the pillars for nation building over the next five/ten years. This attack has sharpened the focus to maintain stability."
At the moment, the police haven't publicly revealed their evidence, about who was behind this attack. But police are saying it was well-planned and premeditated.
Wang: Thank you Han Bin. Now Guan Yang, you've spoken to residents there, how they've reacted to the terrorist attack in Beijing?
"This isn't the first terrorist attack to take place this year: there have already been several incidents in parts of Xinjiang. So it seems that the country might be facing a severe challenge to stamp out terrorism, considering the size of Xinjiang and its scattered population." Local resident Hong Jiashen in Urumqi.
"These kinds of violent terrorist attacks are carried out by a handful of extremists in Xinjiang. They don't represent ethnic groups here in any way. Most people here value the vitality and importance of ethnic groups." Local resident Xi Lan in Urumqi.
"I read the news of the car crash in the newspaper. I felt angry toward these terrorists who threaten social stability in the country. A harmonious society should be one of stability and peace." Local resident Dawut in Urumqi.
"The terrorist groups and extremist organizations are enemies of all ethnic groups. The horrible crimes they've done have negative effects on people, and should be condemned by all." Local resident Adilai in Urumqi.
"Such violent terrorist attacks shouldn't happen in a city like Beijing, the capital of an influential nation. The incident negatively effects not just people from Xinjiang. No government in the world should tolerate terrorist acts that jeopardize public life and property. There are other civilized ways of voicing one's opinions or objections, rather than killing innocent people." Local resident Adilijiang in Urumqi.
Related stories
Editor:Zhang Rui |Source: CCTV.com