Surveillance footage of a teenage girl beating up a toddler in an elevator has sparked public outrage across the country. Though police have now got involved, it is still unclear why someone would attack a toddler in the first place.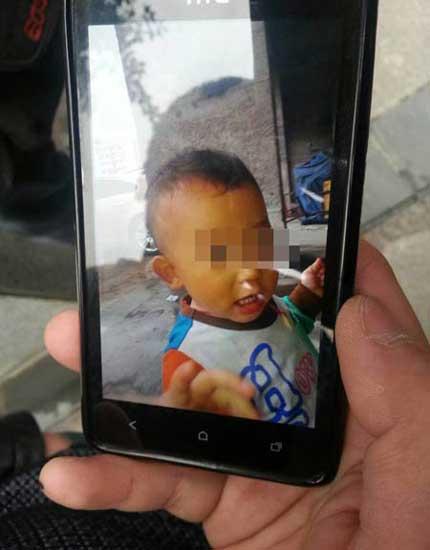 Li Shuyong's mobile phone displays a picture on Thursday of his 18-month-old
son who was attacked in an elevator. Luo Wangshu / China Daily
A tragedy no one could have imagined.
It was in the southwest city of Chongqing last Monday when Ms. Wu took her grandson Yuanyuan downstairs for a walk. When their lift reached the ground floor, Ms. Wu took his bicycle out of the lift and was just about to reach for him when someone else entered the lift.
"A school girl entered the elevator and held Yuanyuan up. The door closed before I could react." Ms. Wu said.
Surveillance footage supported Ms. Wu's description. But, in a shocking turn of events, the girl who is nearly 12 years old, began to beat the toddler in the elevator. She held the boy up and threw him back on the floor, and then kicked him repeatedly. When the lift stopped on the 25th floor, she threw the boy out of the lift and then went out herself.
"I later went to the girl's house and asked her where my grandson was. She said someone else took him." Ms. Wu said.
Five minutes later, the one and half year old boy was found outside on the ground floor. Evidence showed that he had dropped all the way from the 25th floor to the bushes down below. Yuanyuan was taken to hospital and just woke up from a coma on Thursday afternoon. Doctors say he has suffered skull fractures and internal bleeding. He faces the prospect of many risky operations ahead. The case is currently under investigation by the local police.
"The case is still under investigation, and we can't disclose more details as both the victim and the suspect is underage." Mr. Cao with local police station said.
Ms. Wu just moved into the neighbourhood a month ago. She doesn't think anyone had a personal grudge against her or her family. But why this schoolgirl beat a defenseless toddler is still unclear.
Related stories
Editor:James |Source: CCTV.com