With a population of 23 million - more than five times that of New Zealand's - Beijing is one of the biggest cities on earth, which makes getting to work there considerably harder. CCTV's Han Peng, Ai Yang and Grace Brown have put the capital's transport systems to the test - including four wheels, two wheels and the subway - to see which is fastest.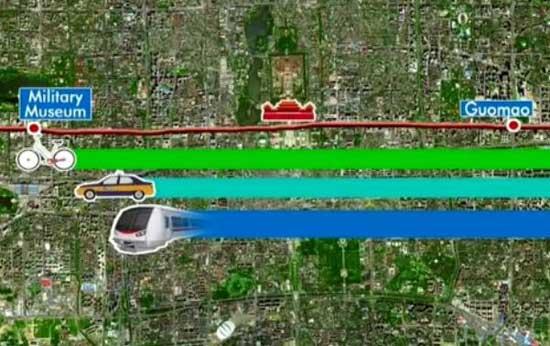 CCTV's Han Peng, Ai Yang and Grace Brown have put the capital's transport systems to the test
- including four wheels, two wheels and the subway - to see which is fastest.
Reporter: "So it's 8:24 in the morning and all three of us are going to work. Ai Yang is going to get a cab. Grace is on her bike and I am going to take the subway. We'll see who is the fastest to get to CCTV. Let's go!."'bye!"
We left from Guo Mao in the city's east, and headed for Military Museum, next to CCTV headquarters, 12.7 kilometers west.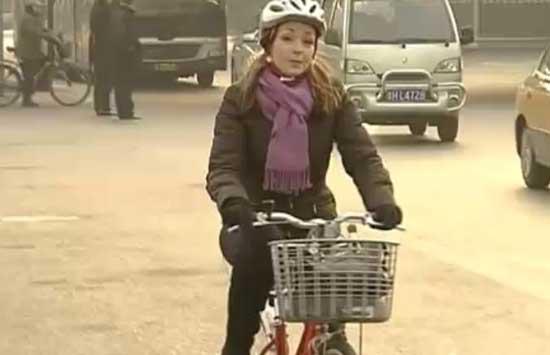 CCTV correspondent Grace Brown.
Grace: "China was once known as a bicycle kingdom, but with rising incomes, more people are choosing to buy a car to prove their middle class status. According to the University of British Columbia, in 1986, bikes accounted for 60 percent Beijing's transport. But by 2010, that ratio fell to just 17 percent. With air pollution a growing concern - and car fumes a significant cause - the government is now trying to bring back the bike."
Another form of transport the government is trying to boost to get people off cars is the subway. Beijing now has the second-longest subway network in the world, after Shanghai.
Han Peng: "A ride on Beijing subway cost just two yuan per person, no matter how far you travel. But these days, some people are calling for a price hike, because the subway is simply too crowded."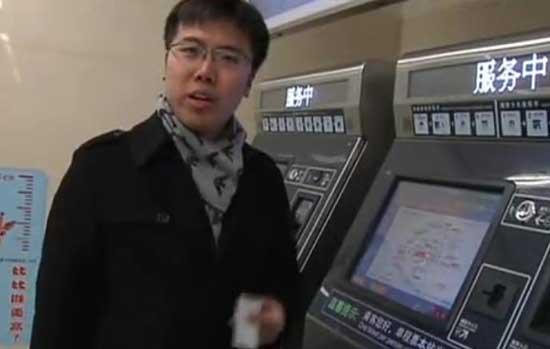 CCTV reporter Han Peng.
Surprisingly, I got my taxi relatively quickly - within just a few minutes. In the past, it could take up to an hour because it was sometimes cheaper for taxi drivers not to have a customer at all than to be burning up fuel in traffic. Now the flag down price 13 yuan or just over two US dollars.
Ai Yang: "Taxi rates in Beijing have been raised quite a few times in recent years. It used to cost just about 30 yuan in the past, but not anymore - it is going to cost much more now if we get stuck in traffic as the waiting price has gone up quite a bit. So how much will it cost? We'll find out soon."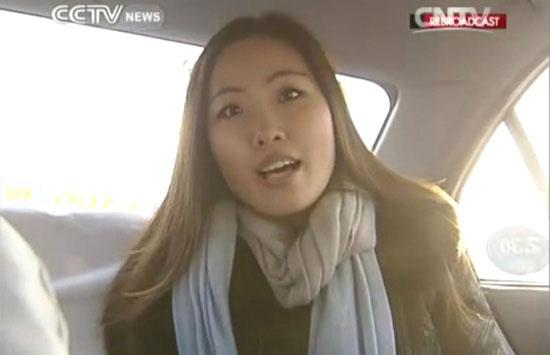 CCTV reporter Ai Yang.
Han Peng: "This is the daily battle Beijing commuters have to fight. Over ten million people use Beijing subway every day. That's n"early half the population of Australia. And you can't really get onto the subway sometimes."
After another round of wrestling, I managed to get on the train, but had to leave my cameraman behind. Sky-rocketing housing prices are driving many residents to the suburbs of Beijing. Some now have to travel hours to get to work.
It took me just about 45 minutes to reach CCTV headquarters- and I arrived a few seconds before Ai Yang. So it seems two wheels are just as fast as four - and much cheaper. Ai Yang's fare ended up costing 55 yuan, or about 8 and a half dollars. Lucky I had spare change to help her out.
Grace Brown: "In 2011, Beijing set up a public bike rental system, similar to the Velib bikes in Paris and the Boris bikes in London. The bikes are free for the first hour, then 1 yuan or 16 US cents for every hour after. But while the bikes are cheap, they don't come with all the kit. A helmet could set you back up to 900 yuan or 150 US dollars - putting them out of reach of many Chinese cyclists and raising their risks on the road."
Han Peng: "I've just arrived at Military Museum station next to CCTV. It's now 9:12am, almost one hour after we left. Ai Yang and Grace texted me to say they are already here. For us this was just a race, but with more than 20 million people living in Beijing, getting them around the city is becoming a growing challenge."
That was Han Peng, Ai Yang and Grace Brown reporting.
Related stories
Editor:James |Source: CCTV.com