Watch Video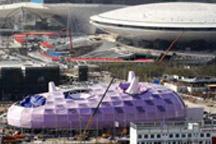 Play Video
Covering about 6,000 square meters that's nearly the size of a football field, Japan Pavilion is one of the biggest at the World Expo. They call it the "Purple Silkworm Island" for its unique exterior, but its innovative interior was created to express the theme of the pavilion "Harmony of the Hearts, Harmony of the Skills."
Japan Pavilion offers an experience including fun, knowledge, and the latest in high tech that might shape the future.
Taking the escalator in Zone 1, visitors will learn about how Japan's culture developed particularly in the 7th and 8th centuries, stimulated by its close contact with the Tang Dynasty in China.
Zone 2 focuses on Japan's aesthetic preference. A typical traditional tea house is set surrounded by a four season natural scene. The stars of the second zone are the three high definition reproductions of Japan's national treasures. High tech helps people to get a closer look at the three ancient paintings.
High tech elements are cleverly mixed in and displayed in almost every detail. You might simply stroll through these special floors as usual, but you unknowingly have helped to generate some electricity.
The story of the crested ibis, a nearly extinct bird only found in China and Japan, is also put on stage in the pavilion. Borrowing artistic elements from both China's traditional Kunqu opera and Japan's No theatre, the performance is staged 35 times every day to pay tribute to life and nature.