Watch Video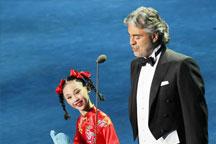 Play Video
International artists have converged in Shanghai to present a multi-cultural feast for global audiences. On Friday evening at the grand opening of the event, artists from around the world sang and danced on the same stage to epitomize a harmonious gathering of East-meets-West.
Italian pop tenor Andrea Bocelli has held three concerts in Shanghai. He harbors special affection for the fast-developing city.
Andrea Bocelli, Italian Tenor, said, "I already had certain knowledge about Shanghai. But to know this charming city better, it may take about a year. Every time I come here, I feel it is just like home, cozy and warm. I feel we have a similar understanding of art. Therefore although Italy and China are so far apart from each other, I feel I'm very near to China."
He also performed together with Chinese diva Song Zuying and Taiwan pop singer Jay Chou at a concert called "Charming China" at the Shanghai Stadium on Saturday.
Chinese piano superstar Lang Lang performed a concerto called "New Shanghai at the opening ceremony.
Grooving to his passionate performance were more than 160 dancers. Leading the dance was native Shanghai artist Tan Yuanyuan who is currently the prime ballerina for the Los Angeles Ballet.
Tan Yuanyuan, Chinese Ballerina, said, "We wore costumes that were all red, the color of China. I could feel Lang Lang's passion while he was playing. Such a mood was reflected in my dancing. I want to thank my motherland for cultivating me. I will pay back my motherland by bringing my art back home."
Thousands of people watched the gala live at the futuristic, UFO-shaped Shanghai Expo Cultural Center, a centerpiece facility at the Expo Park.
Editor:Du Xiaodan |Source: CCTV.com