Watch Video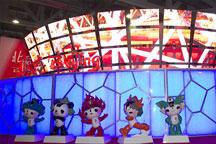 Play Video
Visitors flocked to China's Joint Provincial Pavilion on the first day of the World Expo on Saturday. All 31 Chinese provinces, autonomous regions and municipalities have been presenting the best of their local culture.
The Beijing Pavilion is one of the most popular destinations because of its strong connection with the Olympics. Souvenirs including seals and torches are proving to be hot items.
The Shanghai Pavilion features simple designs but with profound implications. Themed as "New Horizon Forever", it demonstrates a more charming, harmonious and intelligent Shanghai where history blends with modernity and east meets west.
A visitor said, "It's a crystallization of Shanghai. It's really not easy for a city to be like today."
"In one day, you can tour the whole of China. The world is right here."
Pavilions of China's southwest provinces feature strong ethnic flavors. Yunnan Pavilion revives national architecture.
Guizhou's pavilion is a combination of unique local elements, such as the wind and rain bridge and drum tower. The pavilion shows the intoxicating beauty of the local ecological environment and folk customs.
Editor:Du Xiaodan |Source: CCTV.com