Watch Video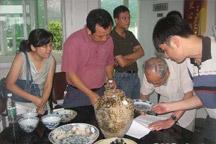 Play Video
The ongoing underwater archeological effort promises to further enlighten the modern minds about the maritime feats of Chinese merchants. Once operating on the so-called Marine Silk Road, the ship has become fascinating to both archeologists and ordinary people. Now let's learn more about the vessel.
The merchant vessel was named Nan Ao Number One, since it was discovered near the Nan Ao Island off the coast of Shantou City. Reposing nearly thirty meters underwater, the wooden ship measures no less than 25 meters in length and about seven meters at the beam. The stern points to the direction of the open sea. While the superstructure has largely rotted away over the centuries, most of the hulls and outriggers are still in fairly good shape.
The ship was first discovered by local fishermen three years ago. It has proved further evidence for the role that Shantou City once played in the South China Sea trade, now known as the Marine Silk Road. And the ongoing exploration is bound to add more details, helping to complete the picture of the flourishing trade of Southeast Asia prior to the arrival of European sailors.
The Nan Ao Number One was operating the route linking the South China port towns and the Philippines and Indonesia. Archeologists expect to derive from it valuable information on the history of both ancient maritime trade and shipbuilding.
Related stories
Editor:Yang Jie |Source: CCTV.com