Watch Video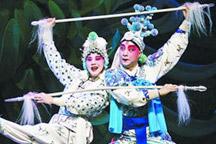 Play Video
The 9th China Arts Festival is off to a great start in southern Guangdong province. Monday night's opening gala raised the curtain on two weeks of stage performances that will showcase some of the best pro'-am' talents of China. Now, let's hear more about what's in store.
From the people and for the people. That's why the event is known as the people's festival in China. Initiated by the Ministry of Culture in 1987, the spirit of the event has never changed.
It's a stage for both professionals and amateurs. In the professional category, 65 shows are nominated. They will compete for the biennial top award, called Wenhua, which poetically alludes to something cultural and splendid. Meanwhile, amateur art lovers will show their talents to compete for the other big honor, the "Star Award."
And the stage is not limited to theatres. Some performances will be in squares, on campus, in a community, or next to some farmland... the festive mood is everywhere as long as there is an audience. And some of these performances will be free for students, migrant workers, and farmers. Covering five major cities in Guangdong province, about 8 million people are expected to enjoy over a hundred performances in the following two weeks. Sharing with the audience and learning from them, that's how art is kept alive and moving on.
Editor:Yang Jie |Source: CCTV.com