Watch Video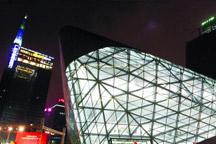 Play Video
After six years of construction, the Twin Boulder is finally open! Officially, we're talking about the Guangzhou Center for the Performing Arts, or GCPA. And now that the new venue is available, many of the 9th China Art Festival performances will be held there.
The "Twin Boulder" is designed by London-based architect Zaha Hadid. The building takes its shape from boulders in the Zhujiang river that runs through the city of Guangzhou. The Big Boulder is the major theater of the Center, with 1800 seats, while the small boulder houses a multi-function theater with 400 seats. More than 10-thousand tons of steel were used in GCPA's construction, double the amount used to build the National Centre for the Performing Arts in Beijing.
The Big Boulder features a movable stage which can be raised 30 meters, or dropped 20 meters to facilitate the changing of sets. And the light bulbs used on the ceiling of the hall are energy saving and arranged in chic designs.
Editor:Yang Jie |Source: CCTV.com