Watch Video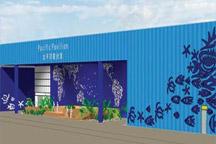 Play Video
Over the past three centuries or so, the South Seas have long been a faraway place of charm and mystery to people in the northern hemisphere. At the World Expo in Shanghai, the Pacific Pavilion is living up to its reputation for being exotic, and supplying boundless inspiration for a "better city, better life."
Located in section B of Expo Park, the Pacific Pavilion is the collective home to fourteen countries scattered around the Pacific. Among them are Fiji, Tonga, and the Solomon Islands. Anyone thinking of taking a trip to the area will want to check out some great offers from the South Pacific Tourism Organization and the Pacific Islands Forum.
Naturally, the Pacific Pavilion has an ocean-blue exterior. And its titanic-sized floor space covers more than 8-thousand square meters. All the design elements reflect the unspoiled paradise and beauty of the locale.
Inside the building are the exhibition venues for the fourteen countries and two tourism organizations. Collectively, they have done an excellent job presenting the region's landscape, local culture, and folk traditions. Some prominent features are the age-old handicrafts, including wood carvings, straw artifacts, pottery, and shellwork.
One of the main attractions are the Pavilion's greeters who wear ethnic garments of various nations. They give visitors the chance to take home some of the exotic nature of the South Pacific with a simple snapshot.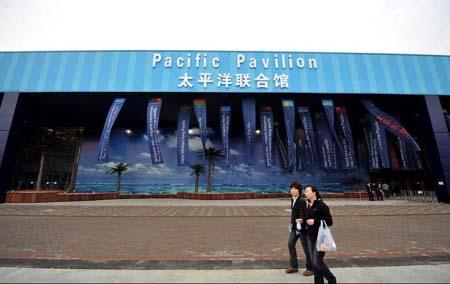 Pacific Pavilion(File photo)
In front of the building, there's an outdoor show that is performed throughout the day and into the evening. Accompanied by traditional folk music, dancers demonstrate the hospitality and passion of the Pacific islands.
Editor:Yang Jie |Source: CCTV.com