Watch Video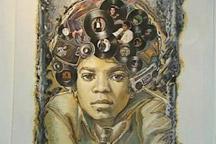 Play Video
Art lovers in Shanghai are encouraged to take a stroll along the "World Art Gallery" during the city's annual Spring Art Salon. The concept of internationalization is projected as this year's theme. The event's highlight is two conceptual oil paintings to remember the late King of Pop Michael Jackson.
More than one hundred prestigious art galleries from different continents around the globe will take part in this year's event. Various art schools and genres including abstract and realism will give visitors and buyers a huge pool of choices.
The two conceptual oil paintings by American Chinese artist Zhou Chi are drawing huge attention. They were created to commemorate the one year anniversary of the death of American pop singer Michael Jackson.
The curly hair of young Michael is turned into the eleven black phonograph albums he released during his lifetime.
The Spring Art Salon is somewhat of a homecoming for Zhou Chi. The artist was born in Shanghai, and moved to the US at the age of 16. After earning a Master of Art degree at the University of California at the age of 25, Zhou devoted herself to the creation of modern expressionism art. Modern pop icons such as Marilyn Monroe and Elvis Presley all became her subject matter.
Her latest works of Michael Jackson will be projected onto a huge screen at New York's Time Square on June 21st to commemorate his sudden death one year ago.
The Shanghai Spring Art Salon will be open to the public until Sunday with a ticket price of 25 yuan.
Editor:Yang Jie |Source: CCTV.com