Watch Video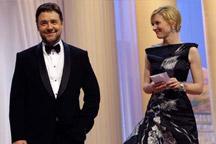 Play Video
The curtains were raised at the Cannes Film Festival on Wednesday, with film buffs and moviemakers queuing up to attend early morning screenings. For the next 11 days, the famous and not-so-famous will walk the red carpet, test their stamina at party after party, and cram together in darkened screening rooms.
The President of the Jury, director Tim Burton, who made his name with gothic fantasies ranging from "Edward Scissorhands" to "Sleepy Hollow" and "Batman" and whose "Ed Wood" was shown at Cannes in 1995, said he was looking forward to the two-week movie marathon that lay ahead.
The festival kicks off with the premiere of "Robin Hood" starring Russell Crowe and Cate Blanchett, a typically grandiose opening to an event that also champions gritty films from every corner of the globe made on shoestring budgets.
The Hollywood blockbuster is, however, one of relatively few U.S. titles at this year's festival, reflecting a tough economic climate that has starved Cannes of some of its star power and provides an unsettling backdrop to the celebration of cinema.
Outside the competition, directors Oliver Stone and Woody Allen are both bringing their latest offerings to Cannes.
Stone's "Wall Street: Money Never Sleeps," in which Michael Douglas reprises his role as ruthless corporate raider Gordon Gekko, will be among the most topical at the 2010 festival, focusing on corruption and greed at the world's biggest banks.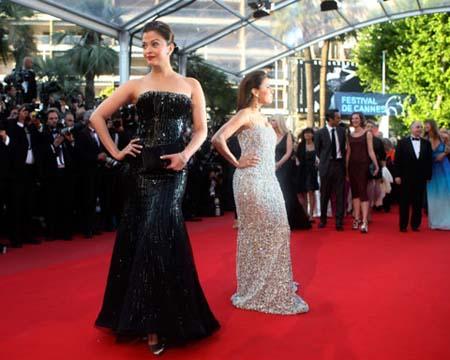 Actresses Eva Longoria, right, and Aishwarya Rai, left, arrive for the screening
of "Tournee" at the 63rd Cannes Film Festival in Cannes, southern France, Thursday,
May 13, 2010. (Photo: AP Photo/Lionel Cironneau)
Critics are generally impressed with the 2010 line-up, but still wonder if it will live up to the buzz generated by last year's entries, including the widely praised "The White Ribbon," "A Prophet," "Up," and Lars Von Trier's controversial and ultra-violent "Antichrist." In any case, film fans from France and abroad will not be left wanting.
Related stories