Watch Video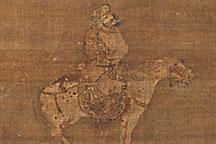 Play Video
The Beijing Spring Auction is underway at various locations across the Chinese capital. China is the third biggest global auction market, which has seen a spike in sales over recent years. The Beijing Spring Auction had ten national class relics which went under the hammer drawing attention from around the world.
The highly anticipated Song dynasty hand scroll, "Song Copy of Guo Zhongshu's Four Horsemen Hunting" was auctioned for 71 million yuan, or 10 million US dollars at the Guardian Auction, on Saturday afternoon.
That's almost a 20 million yuan increase from its starting price, which was 52 million yuan.
The Song dynasty painting depicting the hunting scenes of ethnic horsemen, is one of the ten national class relics under the hammer this season.
It holds the record price so far during the Guardian Spring Auction.
Sun Jie, Marketing Director of Guardian Auctions, said, "This price has attained our estimation. The piece had drawn much attention among collectors before the auction was held. It's a piece from Southern Song dynasty. Paintings from that era to put on an auction, has been very rare. In addition, it was a collection of Qing court. So it is quite a sought after piece."
Among the other nine national class relics,
A Buddhist manuscript written in 623 AD, was auctioned for 2.7 million yuan, or nearly 400-thousand US dollars. The manuscript was a trove of Dunhuang grottos, and was written by Xuan Zang's master Xuan Hui. It's the second highest price for a national class relic lot.
The third highest price was for a series of letters between Li Dazhao, Hu Shi and Zhou Zuoren. They were sold for 2.5 million yuan, or 360-thousand US dollars. The three are celebrity intellectuals of the 1920s in China.
Since 2008, the country is now the third biggest auction market in the world. While Guardian has climbed to fifth place of highest selling auction houses around the world.
"We obtained a record high sale in our history in last Autumn auction which was 1.5 billion yuan. This year, we hope we will surpass that." Sun said.
From Saturday till Tuesday, Guardian will hold around a dozen of auctions. Major categories are ancient painting and calligraphy, modern and contemporary paintings and royal items.
Editor:Zheng Limin |Source: CCTV.com