Watch Video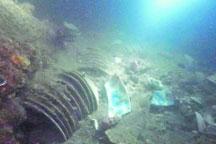 Play Video
More mysteries have been uncovered as excavation work continues on the ancient ship that sunk in the South China Sea. Experts have offered a primary conclusion, claiming the vessel was a trade and commerce ship that sailed in the late Ming Dynasty.
The ship has slept under the sea for more than four centuries. Where was she from? Where was she going? Why did she sink? Experts are piecing the clues together in a bid to answer these questions.
In the late Ming Dynasty, China's trade and commerce ships were able to carry tons of freight but had smaller hulls to fight against the vicious seas. Harnessing the power of monsoons was the most typical method of propelling ships like Nan'ao One at the time. Usually, sailing began in winter or early spring while the return was planned for autumn when the monsoon lent a helping hand, pushing them back to China.
However, experts haven't excluded the possibility that these same winds were responsible for forcing the ship off its intended route onto a rockier, more dangerous path.
Editor:Zheng Limin |Source: CCTV.com