Watch Video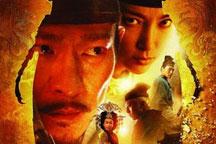 Play Video
Hong Kong heartthrobs Donnie Yen and Andy Lau are both promoting their latest films for China's national holiday movie season in October. Returning on the big screens are two legendary men in the country: a patriotic Kungfu master and China's ancient Sherlock Holmes.
Hong Kong veteran director Hark Tsui is famous for adapting history on big screens. This time is no exception.
"Detective Dee and the Mystery of the Phantom Flame" will present a different Di Renjie, one of the most famous ancient detectives in history and most celebrated officials of China's only female emperor Wu Zetian.
Setting in the second half of the 7th century, the film is promised to be full of suspense, fantasy and action. The A-list cast includes Andy Lau, Carina Lau, Tony Leung Ka fai, Li Bingbing and Deng Chao.
"Detective Dee and the Mystery of the Phantom Flame" marks the 50th film of director Hark Tsui to celebrate the 25th anniversary of the founding of his film studio. The film will also be screened on the current Cannes Film Festival.
Another remake of familiar old stories is about the patriotic Kungfu master Chen Zhen in the early 20th century. Hong Kong action star Donnie Yen will re-present the hero, a big screen classic figure in China, including late Kungfu legend Bruce Lee's version 1972 and action star Jet Lee's interpretation in 1994.
However, veteran director Jaffery Lau along with his star-studded cast are confident to create a new classic. The line-up includes Hsu Chi, Anthony Wong and Huang Bo.
"Detective Dee and the Mystery of the Phantom Flame" and "The Legend of the Fist" will hit cinemas across China in late September, leading this year's fierce competition in cinemas.
Last year, the national holiday movie season pulled in 700 million yuan at the box office. Insiders estimate this season it could reach 900 million.
Editor:Zheng Limin |Source: CCTV.com