Watch Video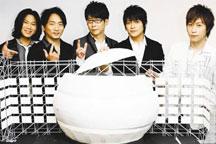 Play Video
There's a boat load of cultural and arts events across China to get this summer off to a great start. Let's take a moment now to rundown the entertainment calendar to see what's in store over the next seven days at theatres, exhibition halls, and open air venues in some of China's major cities. We hope this guide will provide some handy tips to help you choose your favorites among a multitude of shows.
Cellist Wang Jian will stage his solo concert at the National Center for the Performing Arts on May 21st. The concert is part of the institution's May Music Festival that encompasses a series of classic music concerts by orchestras and solo musicians from home and abroad. Wang Jian will exclusively play the works of German composer Bach.
"New Sensation" is an exhibition of sculpture works from the Czech Republic that were created during the country's socially turbulent period beginning in the 1960s. The 61 exhibits include serial works, glass sculptures, and paintings. The display trails the progress of Czech sculpting art from the 1960s to the 80s.
Still, the following week will see a rich array of art events in Shanghai as the city is alive with the ongoing World Expo. There will be the national pavilion day for the Czech Republic, Germany, Turkmenistan, Austria, Poland, and Sweden from May 17th to the 23rd.
Teresa Teng's Commemorative Concert
May 15th
Henan Hall of the People, Zhengzhou
Pop singers from across the Taiwan Straits will jointly stage a concert called "Forever Teresa Teng" at the Henan Hall of the People in Zhengzhou city on May 15th.
Pop Concert by Wu Bai
May 15th
Workers' Gymnasium, Beijing
The godfather of Taiwan rock and roll, Wu Bai, will be presenting a solo concert at Beijing's Worker's Gymnasium on May 15th.