The People's Square ranks the most important and prosperous area in Shanghai because of its geographical conditions and the developing plan of Shanghai. Around the square there are so many skyscrapers, among which the most famous are Shanghai City Hall, Shanghai Museum, Shanghai Grand Theatre and Shanghai Urban Planning Exhibition Hall. Therefore, it's the political, commercial and cultural center of Shanghai. You could always see there holds many ceremonies and the cultural activities at the People's Square.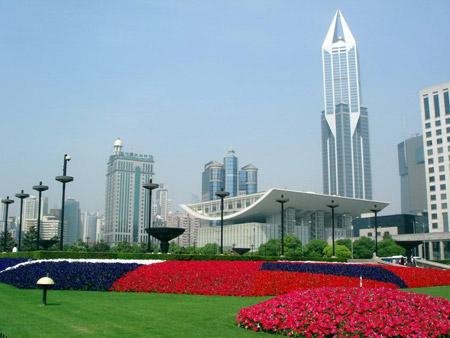 People's Square, Shanghai
People's Square is also the vital transportation line. It connects the No.1 subway and the No.2, where you could easily transfer it and reach the destination conveniently. The underground shopping mall and department stores are here and there. Furthermore, you may park your car in the underground garage which is the largest in Shanghai. Can you believe that under the People's Square there sets up the largest alliterated electric drill in Asia.
Editor:James |Source: CNTV.CN