Invested by Shanghai Film Group Corpration, Shanghai Film Shooting Base ( aka Shanghai Film Park ) is Built as an ideal place for shooting, sightseeing and culture communication.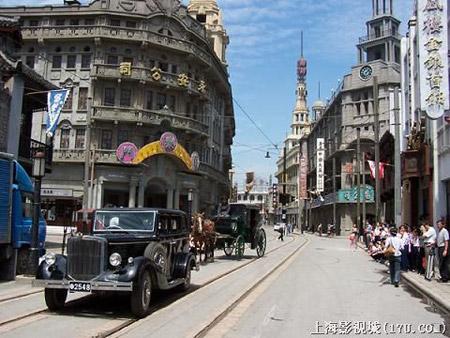 Shanghai Film City in Nanjing Road
You will find many different scenes in the park, such as "Nanjing Road in the 30's","Shanghai traditional houses", "Downtown Shanghai in old times", "European style architecture", "Suzhou Creek", "Church", "Peace Plaza", "Old Shanghai bridge", "Lake and mountain area", large soundstages, costume and prop ware-house, film library, screening rooms.
In addition, there are many attractions here, such as trolley, Exhibition of SFS Costumes & Props Selection, racecourse, old Shanghai street show, to name just a few. Shanghai Film Shooting Base is not only a best choice for production crews and tourists, but a perfect educational place for teenagers as well.
Editor:James |Source: CNTV.CN