Watch Video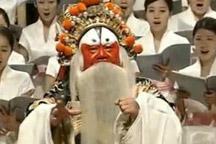 Play Video
The 9th China Art Festival is well underway in Guangdong province, staging over 100 performances in five major cities. With Guangzhou being the biggest city on the tour, let's head down South and take a look at some of the highlights happening there.
Performances in Guangzhou for the China Art Festival include the Kunqu opera "Peach Blossom Fan 1699". Adapted from Kong Shangren's Ming dynasty novel of the same name, the show tells of a love story between a scholar and a prostitute in a turbulent era.
The Kunqu show borrows its format from cantata, allowing performers to sing without musical accompaniment. They win over the audience simply with their delicate singing and postures of the age old opera.
China Art Festival provides a stage for newly created shows to compete for the Wenhua Award, a prestigious honor for stage productions in China. And this "Peach Blossom Fan 1699" is a serious competitor for the prize.
Liao Naixiong, Composer, " Peach Blossom Fan 1699", said, "A human's voice is the most moving. Without accompaniment, the audience can appreciate it without being disturbed. That's the breakthrough of this production."
Also being staged in Guangzhou is a stage play based on the reform of Anhui's Fengyang at the end of the 1970s. Fengyang was the first village in China to let farmers contract land and run it.
In additional to shows in theaters, there are over a hundred performances to entertain residents in squares, on campuses, in communities, or in rural areas.
The Ninth China Art Festival will continue to run for more than a week.
Editor:Yang Jie |Source: CCTV.com