Watch Video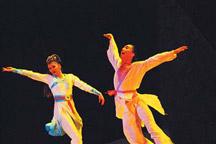 Play Video
Ten years after debuting in Beijing, the dance drama "Dunhuang, My Dreamland" was staged at the Great Hall of the People on Sunday night. Set in the mysterious Dunhuang Grotto, the drama not only maintained its former glamour, but now it plays like a classic.
If the thousand year grotto has concealed too many stories, this must be one of them.
Dance drama "Dunhuang My Dreamland" tells of a love tragedy between a painter and a general's daughter. It's considered a classic in plot, music, choreography, and stage design. The music was staged at Vienna Golden Hall in 2007 as a symphonic piece. While the choreography blends Chinese ancient dance, ballet, modern, and folk dance. And the stage and costume design, is all about reviving the glamour Dunhuang is famous for.
The show has thrilled audiences at some eight-hundred performances both at home and abroad. The director and choreographer contribute the show's success to a theme that resonates.
Chen Weiya, Director, "Dunhuang My Dreamland", said, "For a show, as long as it depicts the beautiful feelings of mankind, in a good format, it can be well received by people at any place in the world."
The dance, as performed by Lanzhou Song and Dance Troupe, has won both the Lotus Award, the highest award for a Chinese dance troupe, and the Wenhua Award, which is the supreme honor for stage shows in China. Most recently, it won the first session of China Repertoire Award, with seventeen other stage shows. The prize is encouraging some classics to become a stable show like those in Broadway.
Dong Wei, Director of Art Dept., Ministry of Culture, said, "The China Repertoire Award is set to let such A-list shows take turns showing in some theaters, allowing more people to watch them. Not like winning an award and then going into a warehouse."
"Dunhuang My Dreamland" has already brought a million people into the dream to the beautiful grotto of the desert, and as the Ministry's new policy takes effect, it will no doubt continue to draw more people in.
Editor:Yang Jie |Source: CCTV.com