Watch Video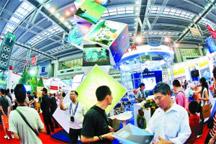 Play Video
One of the pluses for e-readers is that they are environmentally friendly. And that works right into the agenda at the 6th International Cultural Fair in Shenzhen. The four-day event in south China's Guangdong Province just wrapped up a program that focused on environmental protection, emphasizing how to reduce carbon dioxide emissions. What's it all about?
Low carbon printing and digital publications dominated the four day event. An extremely thin digital gadget was introduced at an exhibition counter representing Jiangsu Province. The devise showed the study materials tailored for first graders. Research and development personnel from Jiangsu said students in the near future will be spared from carrying heavy bags to and from school. All they need with them is just a light digital book that can hold a library's worth of information.
E-books have certain advantages over traditional print books. Apart from cutting costs, e-books encompass more information... from articles and graphics, to speech, sounds, and even music... all thanks to digital technology. You can find exactly where you finished reading last time in a split second. You can copy the chapters you like, you can download materials. And most importantly, it lowers greenhouse gases.
E-books are not just a fad, but a revolution. In the meantime, research and development professionals are working hard to make e-books more tactically satisfying to old-school readers by giving them the feel of real pages.
Editor:Yang Jie |Source: CCTV.com