Watch Video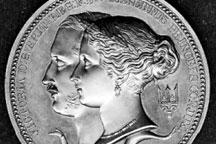 Play Video
And now, a bit of history about the World Expo. The 1851 Great Exhibition was a showcase for Britain's industrial, economic, and military strength at what was then the beginning of the Industrial Revolution. Two major kinds of medals were given out to outstanding exhibitors at the exhibition: the Prize medal was given out for outstanding production and workmanship, while the Council medal was given out for innovative products.Today, in the first edition of our series on "Medals of the World Expos", we will examine the Prize medal of the Exhibition, which is also the first medal won by a Chinese exhibitor at a world exposition.
Prize Medal of 1851 Exhibition
Diameter: 77MM
At the Prize Medal' s center are the heads of Queen Victoria and Prince Albert. The Great Exhibition was championed by Prince Albert. Surrounding the heads are the Latin words, "Victoria by the Grace of God, Queen of the Britains, Defender of the Faith, Prince Albert, Her Husband."
Below are two dolphins to signify the naval power of the Empire. And under the dolphins, are the Roman numerals representing 1851. On the left, is the abbreviation of the engraver William Wyon, from the Royal Academy. And to the right is name of the medal producer: Royal Mint. Also, a trident to the right symbolizes the strength and stateliness of Great Britain.
In the reverse, Britannia is seated and bending forward, raising with one hand and with the other, crowning with laurel the kneeling figure of Industry ; Europe, Asia, Africa, and America, attending. The Latin inscription around the border is: "It has bound together in peace and friendship things widely separated." Behind the four standing figures are the industrial products of the time and head portrait of the prestigious British engraver John Flaxman.
Below is the abbreviation of the designer and engraver of this side: Leonard Wyon, and producer's name Royal Mint.
There were 2,876 Prize medals awarded by the jurors in the various classes. China's first ever expo medal was won by businessman Xu Rongcun, from Shanghai for his Yun-kee Silk.
Editor:Zheng Limin |Source: CCTV.com