Watch Video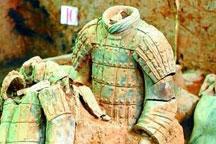 Play Video
And now for some hidden treasure farther inland, we go to northwest China's Shaanxi province, globally known as the encampment of the terra cotta legions of the Qin Empire. And recent archeological work at the site is revealing some surprising fresh facts about the ancient artifacts. Last week, we told you how some figures were found in color. Now, we're ready to explain more about that and reveal some additional characters in the ongoing saga.
In the city of Xi An, pit number one at the terra cotta warrior site has recently yielded another group of ceramic soldiers from the Qin Empire over 22-hundred years ago. They are the latest results of the ongoing third excavation of the site, which first got underway about a year ago. The operation covers an area no larger than 200 square meters.
In sharp contrast to terra cotta soldiers dug out earlier and people's general impressions, some of the newly excavated statues bear coatings of colored paints, still looking rather fresh and intact in some cases.
Once the most formidable army of the oriental world, the invincible legion of the Qin Empire was known for its strict organization and structure. And in pits surrounding the imperial mausoleum, the army's formations also possessed distinctive markings to indicate the rank and office. And at the head of the newly emerged contingent is a general donning a chain-mail coat.
Some remnants of black ash prove the theory that the terra cotta warriors went through an intense fire shortly after their completion. The perpetrator might be the one of the military strongmen rebelling against the great empire's inhumanely harsh laws. Also, a six-footer provoked speculation as to whether all the statues are realistically depicted.
The ongoing excavation is expected to conclude by year's end, when further research will be conducted by the country's top archeologists and historians.
Editor:Zheng Limin |Source: CCTV.com