Watch Video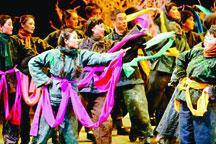 Play Video
As the age-old saying goes, "Men may work from sun to sun, but women's work is never done." So, how much hardship can a woman stand? That question was answered in a novel by Xiao Hong. Now, this remarkable piece of literature has been adapted into a Pingju play, an opera genre popular in northern China. This week, the show was staged at the Ninth China Arts Festival in Shenzhen city.
The play was loosely based on the 1934 novel by writer Xiao Hong: "Field of Life and Death." The ups and downs of the fate of one family is the central element of the story. Following the narrative format of a traditional opera, the drama draws on other techniques to make the performance more entertaining, especially for the younger audience members who are new to Pingju.
Artists from the Shenyang Pingju Opera Company gave a powerful and heart wrenching portrayal of Chinese life in the chaotic age.
Pingju Opera is a popular stage art in northern China. Local artists began to perform a mixture of folk songs and dances a century ago in the villages of Hebei Province. Elements of drama and Peking Opera were later absorbed and integrated to become today's Pingju Opera.
"My Hulan River" is one of the nearly one hundred shows performed in Shenzhen, where the Ninth China Arts Festival is exhibiting the latest productions on the Chinese stage.
Editor:Zheng Limin |Source: CCTV.com