Watch Video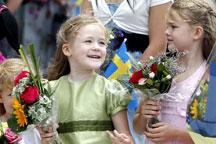 Play Video
Sweden has celebrated its National Pavilion Day at the Shanghai World Expo. Festivities started early in the morning and included a blend of dance, fashion and music to showcase the Scandinavian country's spirit of innovation.
Sweden's celebration for National Pavilion Day started at the Atrium of the Expo Center with a performance by singer Sofia Jannok. Hailing from the country's north, Jannok wowed audiences with her unique voice and display of Saami folk culture.
Her performance was followed by Stockholm-based girl quintet "Those Dancing Days".
The Sweden Pavilion comprises four cube structures arranged in a cross-like formation to resemble the Swedish national flag. The design concept of the pavilion aims to capture the relationship between city life and nature. Sweden's natural beauty served as one of the inspirations for the pavilion's design and its promotion of well-developed urban living.
But urban living also requires sustainability. The metal tunnels inside this room aim to provide future solutions to everyday problems. They include facilities for heating, wastewater and gas. The tunnels link every household to the disposal factory in a way to maximize the use of energy and minimize pollution.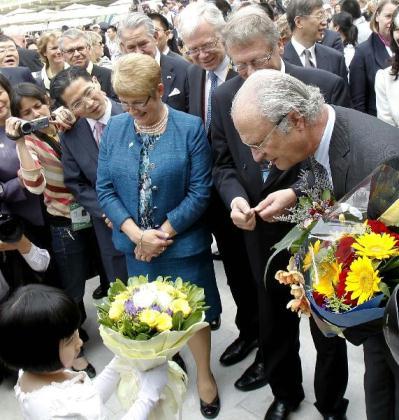 Swedish King Carl XVI Gustaf (R, front) receives flowers during his
vitit to the Sweden Pavilion at the World Expo park in Shanghai,
east China, May 23, 2010, the National Pavilion Day for Sweden.
(Xinhua/Liu Ying)
Creativity and innovation is at the heart of a Swedish life. From smaller innovations such as the thermometer and zipper, to more sophisticated gadgets like the GPS system, Swedish inventions can be found in all aspects of our lives.
Pippi Longstocking is a household name in Sweden, renowned for her creative ideas. She serves as a guide at the pavilion. Through Pippi, the pavilion hopes to inspire visitors to see things from the perspective of a child, with their sense of fun, curiosity and strange but inspiring ideas.