Watch Video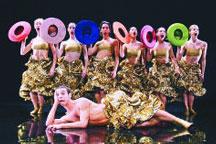 Play Video
The Netherlands Dance Theater 2 has graced the stage of the National Center for Performing Arts in a perfectly tailored repertoire. With the title: "Tip of the Hat" the troupe enthralled and entertained lovers of dance in Beijing with their impressive skills and youthful performance.
Backed by the somewhat distressing harmonies of Beethoven's String Quartet Opus 18, dancers on stage created a gloomy atmosphere, both literally and in mood.
The opening piece of the night named "Gods and Dogs" is the centennial choreography by Jiri Kylian, a legendary artist of the Netherlands Dance Theater.
"Gods and Dogs" is also his last piece created for the Netherlands Dance Theater as its artistic director.
Kylian once said that he's interested in "the borders between normality and insanity, health and sickness. It is beyond any doubt that for each moment of sanity a certain dose of madness is required".
Gerald Tibbs, the present artistic director of NDT 2 (?? the Theater 2?), recalls how Kylian warmed up his dancers during daily training sessions.
Gerald Tibbs, Artistic Director of Netherlands Dance Theater II, said, "The first part is a five-minute improvisation, which the dancers have been worked on for five weeks. He(Kylian) would talk to them and let them be free..."
And let them be free they were.
Kylian has engrained technical brilliance of the NDT 2 (the Theater 2??) dancers. who are strictly aged 17 to 23 and from all over the world, including Argentina, the Netherlands, Switzerland, America and China.
Founded in 1978, the NDT 2 ( the Theater 2 ??)is the second and younger company of the Netherlands Dance Theater compared with its troupe No.1 and 3.
Over the past thirty years the Netherlands Dance Theater 2 has established a reputation for astounding techniques and boundless energy of its young dancers.
Editor:Zheng Limin |Source: CCTV.com