Watch Video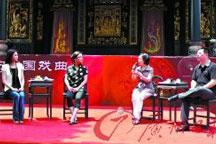 Play Video
If you love opera, you're going to love this. At the China Arts Festival, you can now check out two operas on the one stage. It's like a two for one offer. One is the Sichuan opera, the other is Guangdong opera. A chance to experience authentic performances from two different regions and compare and contrast.
The ancient theater in the Foshan city of Guangdong province is drawing audiences from near and far.
It's where two local operas are being performed on the one stage.
The two troupes showcase different plays, different characters, different emotions.
While the leading ladies of the two operas sit under the stage keeping the audience up to date with what's going on.
"We rarely watch a local opera, films are our favorite. But with their explanation, we can understand the plot and can enjoy the performance." Audience member said.
Both Sichuan and Guangdong operas have enjoyed a stable fan base in south China. And, the troupes are gaining more followers through on the spot tutoring.
Li Shuqin, Director of Foshan Guangdong Opera Troupe said, "We don't want young people feel like watching a local opera is an outdated thing. To inherit the art, nurturing the audience is a priority."
"Both Sichuan and Guangdong opera have unique flavors, which is equally entertaining compared with TV programs or films." Audience member said.
Sichuan opera features spicy tunes and various stunts, while the Guangdong opera has incredible costumes and graceful tunes.
If you're in the area, it's a show well worth a look.
Editor:Zheng Limin |Source: CCTV.com