Watch Video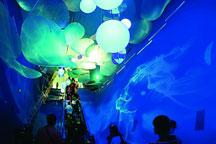 Play Video
Also at the Expo, Germany is launching a serial exhibition dedicated to the country's individual stages. They call the exhibition "Regional Diversity" and the first region featured is Saxony-Anhalt. All this week, the self-anointed "Land of Ideas" presents itself from both its traditional and more modern side.
The German Pavilion is presenting an image of urban equilibrium it calls "balancity." In keeping with this theme, examples of urban living from cities in Saxony-Anhalt such as Wittenberg and Magdeburg will demonstrate how it is possible to preserve local roots while still promoting innovation. Among the examples on display are Interactive buildings in the East German state.
Saxony-Anhalt's most famous son, besides the religious reformer Martin Luther, is probably baroque composer Georg Friedrich Handel. On the balancity stage, the "Rossini Quartet" will perform music by Handel as well as classics by Mozart and Bach.
Twenty students from the University of Art and Design in Halle, a creative incubator with a long history and a high potential for innovation, will accompany the show. During the Saxony-Anhalt Days, these students will play the role of miners, dressing up in costumes from their homeland. With the help of interactive architecture models, they will demonstrate for the visitors how Saxony-Anhalt manages to achieve a balance between historical and modern architecture.
Editor:Zheng Limin |Source: CCTV.com