Watch Video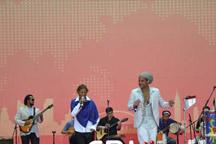 Play Video
Get into the beat and feel the pulse of Brazil, as the South American country celebrates its National Pavilion Day on Thursday in Shanghai. A series of sizzling performances are scheduled for the occasion, inviting everyone to samba the day away.
The day's festivities started with a gig from Brazilian musicians Carlinhos Brown, five-time Grammy winner and singer Mart'nalia. As an icon of fusion music, Brown's style is a mixture of contemporary and ethnic influences... both rustic and sophisticated. Mart'nalia is the daughter of samba legend Martinho da Vila. Her voice is sweet, dark, and swinging, with a distinct and unique timbre.
Carlinhos Brown, Brazilian musician, said, "Chinese music is traditional, for it carries the history and culture of China, whereas Brazilian music is a combination of all sorts of music from around the world."
And where better to kick off a journey to Brazil than from a football match. From your own personal cell phone, you can take part in an interactive game on an external LED screen.
The Brazilian Pavilion presents images of a modern Brazil through a virtual mosaic. A main video, two minutes in length, is shown on a large curved screen, highlighting Brazilian's transition to city life.
The happiness of Brazilians is not only rooted in various sports activities, but also their carnivals and festivals.
As a country of many ethnic groups, Brazil traces its culture to many exotic influences. The imprints of African dance, Indian and Portuguese music, and Brazil's own football culture makes the country both tenacious and vigorous.
Editor:Yang Jie |Source: CNTV.CN