Watch Video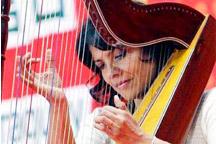 Play Video
Monday marks the National Pavilion Day of Paraguay. The country's Pavilion is located inside the Central and South America Joint Pavilion in Zone C of Expo Park. The people of Paraguay are welcoming visitors with their traditional song and dance performances that are saturated with their exuberant spirits.
Visitors from near and far can't help but stop for a while to listen to the flowing melodies rendered by Paraguayan musicians on the harp, one of the most popular musical instruments in the country.
The harp in South America dates back to around the beginning of the 16th century. The Paraguayan harp usually has 32 to 40 strings. Compared with harps in other parts around the world, the Paraguayan harp boasts a lower range of bass notes, making the instrument desirable for music of various styles.
Apart from harp performances, audiences were also treated with traditional Paraguayan songs and dances to feel the unrestrained spirit of South American music and the people's vibrant personalities.
The Pavilion is promoting the theme of "Paraguay, Its Energy and Its People", and features exhibitions reflecting the country's culture, tourism, and scientific development.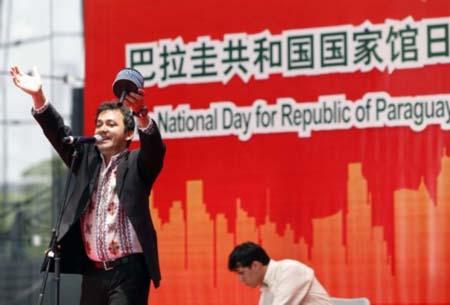 An artist from Paraguay performs during the celebration of the National Pavilion
Day of Paraguay in the World Expo Park in Shanghai, east China, on June 7, 2010.
Paraguay welcomed its national pavilion day on Monday. (Xinhua photo)
Paraguay is bordered by Argentina, Brazil, and Bolivia. Because of its central location in South America, the country of Paraguay is usually referred to as the Heart of America.