Watch Video
Play Video
The Shanghai TV Festival has just begun its annual mission to display and rate excellent TV programs from around the world. It's also a great opportunity for TV professionals to exchange ideas and trade advanced technology. Let's take a look at what organizers are doing to help this event boost ratings.
150 TV stations, production companies, and distributors are participating in the event. They are trading programs at the Shanghai Exhibition Center, with 40 percent of the exhibitors coming from overseas. This year the organizers strengthened their invitations to regions that saw less presence in previous years, such as southeast Asian countries.
Zhang Ming, Marketing Manager of Shanghai TV Festival, said, "The buyers have increased from 500 to 650. We aim to create a nice atmosphere for communication, to catalyze the deals, not merely a display."
As for television network technology, new media and 3D showcases are the highlights at the equipment displays.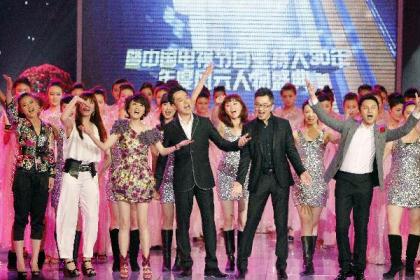 Artists perform at the opening ceremony of the 16th Shanghai Television
Festival on June 7, 2010. The festival raised its curtain at Pudong's
Grand Theatre of OTV Masion Monday night with a grand ceremony honoring
85 domestic TV anchors who have made great attributions to China's TV
industry over the past 30 years. (Xinhua Photo)
Shanghai TV Festival, now in its 16th year, has become a major exchange platform for TV programs and technology in Asia. The event's trophy, the White Magnolia Award, is decided in four categories, encompassing films, serial programs, documentaries, and animations. This year 66 works, from more than 50 countries and regions are competing for the White Magnolia with 23 prizes up for grabs.