Watch Video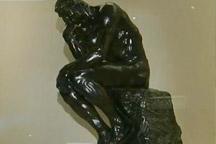 Play Video
"The Age of Bronze" is not the only piece that French sculptor August Rodin presented at the Shanghai Expo. "The Thinker" is also in attendance. The bronze and marble sculpture is no doubt the most well-known work of Rodin.
Originally named The Poet, the piece was first commissioned to create a monumental portal for the door of a museum. Rodin based his theme on "The Divine Comedy of Dante" and entitled the portal "The Gates of Hell."
Each of the statues in the piece represented one of the main characters in the epic poem. Rodin first made a small plaster version around 1880. The first large-scale bronze cast was finished in 1902, but not presented to the public until 1904. Ultimately, it became the property of the city of Paris.
Editor:Yang Jie |Source: CCTV.com