Watch Video
Play Video
After four years of painstaking investigation, the outer stone coffin of the Wuhui Concubine of the Tang Dynasty has been returned to China. The important relic was stolen from her mausoleum and shipped abroad, although we can't say precisely when that happened. The good news is that the coffin is now on display at the Shaanxi History Museum.
According to archeologists, the outer stone coffin of Wuhui Concubine measures 2.45 meters in height, 2.56 meters in width, and 3.9 meters in length. The coffin consists of a total of 31 stones. Patterns engraved on the stones include usher girls and maids, flowers, and architecture. The stone coffin is believed to be of great historical and aesthetic value.
Shi Xiaoqun, Dir. Cultural Relics Dept., Shaanxi History Museum, said, "This stone coffin is the largest and also the most skillfully carved relic of the Tang Dynasty that has been unearthed so far."
The theft of the stone coffin came to the notice the local police in Xi'an, the capital of Northwest China's Shaanxi Province, when they traced a case of tomb robbery in February 2006. In the following two years, the local police found out that the stone coffin was disassembled and shipped to the United States, and was sold for one million dollars.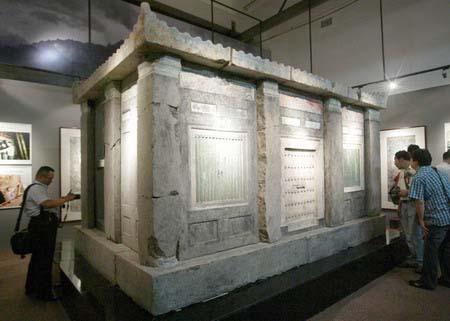 The sarcophagus of Tang empress Wu Huifei (AD 699-737) is displayed in Xi'
an, Shaanxi province, on Thursday, June 17, 2010. [China Daily]
After rounds of negotiations with American cultural relics dealers, they agreed to return the coffin to China with no conditions. The relic, shipped at a Virginia port, began its journey home on March the 16th. After a one month voyage, the coffin arrived in Guangzhou in south China on April the 17th, safe and sound.
Editor:Yang Jie |Source: CCTV.com