Watch Video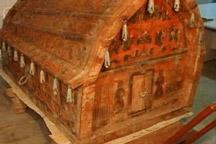 Play Video
The recovered outer stone coffin, or "Guo" in Chinese, weighs 30 tons and was exquisitely engraved. It was rare in the Tang Dynasty for people to be buried in a stone outer coffin. It is a symbol of the highest ranking sepulcher of Tang.
There's a coffin system in ancient China to mark the departed people's identity and social status. The Guan, or inner coffin, was made of wood and the Guo is the outer coffin that covers the Guan. During the Sui and Tang periods, royal family and senior officials were rested in such coffin sets, which were usually placed along the west side of the grave.
Mausoleums with slopes and multiple crypts indicate the palaces of the departed. The grave room symbolizes the living compound, and the stone outer coffin marks the bedroom. The craftsmen dedicated their artistic skill to sculpting stone coffins, and as a result, showcased the pinnacle of Tang painting and sculpture.
Editor:Yang Jie |Source: CCTV.com