Watch Video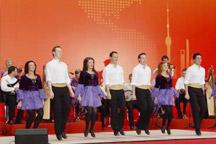 Play Video
Ireland is a country rich in beautiful scenery, ancient architecture, and cultural traditions. And lately, Irish music and dance is growing in popularity in China, largely due to the success of the show Riverdance. Thursday marks the National Pavilion Day of Ireland at the 2010 Shanghai World Expo. So, come along with us to the Ireland Pavilion to find out more about the country and its people.
The Ireland Pavilion is intended to symbolize the relationship between urban and rural, manmade and natural. Its interior design invites visitors to discover the cultural continuity that dates back to the Stone Age, while enjoying a whole range of contemporary audio and visual exhibits, music, and performances.
Among the forms of entertainment people find dear to their hearts is the show "Riverdance," a theatrical piece that consists of traditional Irish tap dancing. The style is famous for its rapid leg movements while arms and bodies are kept mostly stationary. For the Irish, "Riverdance" is not just a show, but a form of national pride.
Music is an inseparable part of the daily lives of the Irish people. From the countryside to the urban cities, music is everywhere.
Apart from the fine music tradition, the country of Ireland is also known for its literature. Four Irish writers have won the Nobel Prize for Literature.
The Ireland Pavilion is complemented by five enclosed exhibitions, which display the creativity of the Irish people, their ancient history, vibrant modern culture, educational traditions, and technical innovations into the context of the beautiful island.
Related stories
Editor:Yang Jie |Source: CCTV.com