Watch Video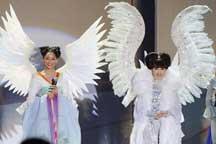 Play Video
A showcase of Japanese culture and art took place at the Shanghai World Expo Park over the previous few days. Both traditional art forms and modern popular culture attract considerable supporters from near and far.
If you don't hear them speak Japanese, you might wonder what kind of Chinese opera you are seeing. This is Koygen--a 600-year-old form of traditional Japanese theatre that is similar to Kunqu Opera in China. Both uses highly stylized acting techniques to tell a story.
The traditional performances also include kabuki, which means sing, dance and skill. The history of kabuki begain in early 17th century. It is now a highly stylized classical Japanese dance drama.
While if things like that are not your cup of tea, there are more modern performances outside the pavilion in the Asia Square. You may not know what this wooden chair is at the first sight, but it is acutally one of the most sacred relics to devotees of otaku.
That is a word in modern Japanese slang that usually refers to animation fans. And here you see, bunch of people bearing the shrine on their backs.
Editor:Liu Fang |Source: CCTV.com