Watch Video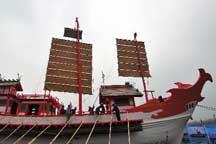 Play Video
Today, Chinese and Japanese arts and cultures are embraced and accepted by both populations. The earliest artistic exchanges between the two can be traced back more than 2000 years. And the Tang Dynasty was undoubtedly an era when such artistic cross-pollination flourished.
Several imperial Japanese missions during that period visited China to study the advanced culture, administration, and institutions. Those envoys were called Kentoshi, which means envoys to China. They were court officials, diplomats, scholars, engineers, Buddhist monks, and merchants. They brought back many innovations and ideas, including the Chinese written language that came with many new ideas, along with precious cargoes of glass, musical instruments, and textiles. Spiritual disciplines lile Zen as well as Confucian concepts also flourished in Japan.
That remarkable history is presented in the Japanese Pavilion in the expo. Visitors can see how Japan's culture profited from frequent contact with Tang Dynasty China.
Also to mark the 1,300 anniversary of the relocation of Japan's capital to Heijo-kyo, a replica sailing vessel followed that actual Kentoshi route.
The ship was designed by a Japanese architect and built in China. It is now on docked along the Bund, as part of Japan Day at the Expo.
Related stories
Editor:Liu Fang |Source: CCTV.com