Watch Video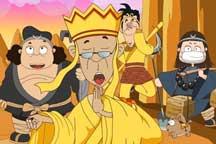 Play Video
The Annecy Animation Festival is the industry's highest-profile gathering, and one of the fastest-growing sprocket operas around. Chinese exhibitors made their presence felt at this year's just-concluded fair in Annecy, France with a strong string of new productions.
This year marks the 50th anniversary of the Annecy Festival. The China booth continues to gain recognition with both the local government and the World Animation Association. Liu Yuzhu, an official from the Chinese Ministry of Culture, says international enterprises are finding their way on a ever-expanding market in China.
The fast development of Chinese animation comes in contrast to the United States and Japan, whose cartoon industries are more vulnerable to the financial crisis of the last few years.
One fine example is "Husizai," a feature which promotes domestic silk to the world. "Inventions of Little Fox" also receives acknowledgement for the innovative techniques that vividly bring the furry animal to life.
"The Young A Fun Ti" is another creation gaining attention. But its producers are in no rush to sign deals with foreign buyers. They're evaluating the pros and cons of such a move, while trying to find the ideal distributor.
One Iranian manager says he's seen vast changes in Chinese animation over the years. He finds today's stories much more compelling, adding that the productions are finer than ever, and his firm is looking forward to future joint projects.
Such cooperation will extend in two directions. The Annecy Festival is also the scene of more frequent deal signings between local enterprises and international distributors, who are aiming to export their own productions to the Chinese market.
Related stories
Editor:Liu Fang |Source: CCTV.com