Watch Video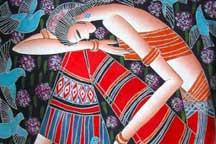 Play Video
The Chinese Peasants Art Festival, focusing on the farmers' contributions in the field of art, kicked off on June the 16th.
Miao Embroidery, a style of needlework peculiar to the Miao ethnic group inhabiting Southwest China, is among the highlighting exhibits.
It seems the embroidery skill is indispensable to every Miao woman, from teenagers to pensioners. Almost all of them are well versed in this traditional handicraft, which requires a pair of dexterous hands and a lot of patience.
Miao embroidery has a long history, dating back as early as the Tang Dynasty more than a thousand years ago. Miao embroidery is rich in color and design. It usually features exaggerated figures based on keen observations by Miao women of objects in their daily lives, such as flowers, birds, and worms, resulting in an artistic abstraction rich in aesthetic value.
A display of the beauty of the Miao culture is currently showing in Fenghuang County of central China's Hunan Province. Costume clad performers sashay down a spacious area to show off the splendors of the traditional attire, decorated with embroidery patterns and adornments woven by silver threads.
Perhaps a visit to the Miao Museum in Guizhou Province can offer a better and deeper understanding of Miao embroidery. On display is a prolific portfolio of embroidery exhibits, featuring dragons, phoenixes, and fishes stitched in a symmetrical form. You can't help but be amazed by the fact that Miao people are born with an embroidering talent. Their works of art vividly reflect their philosophy of life.
Unfortunately nowadays Miao girls who are willing to learn this traditional skill are becoming less and less, partly due to the sagging market for Miao embroideries. A handmade piece like this, which takes a girl more than three months to make, sells at a disappointing price of between three and four hundred yuan, or around forty US dollars. Of course the value behind the piece is far beyond its selling price.
Shi Jinhua, who's been in the embroidery industry for nearly twenty years, has been working hard to preserve this dying tradition. She says that traditional stitching skills are on the verge of being replaced by the wholesale productions made possible by machines.
Confronting this harsh reality, the local authorities have taken a series of measures to help secure the continuity and the sustainability of this age-old handicraft. Miao artisans of the older generation are invited to cultivate young talents, who are eager to carry on the sewing tradition to the next generation.
Editor:Liu Fang |Source: CCTV.com