Watch Video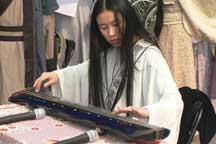 Play Video
Guqin, or the seven-stringed zither, is an ancient Chinese musical instrument with a history of over 3 thousand years.
Although Guqin made it onto UNESCO's cultural heritage list in 2003, the music instrument has been held in an embarrassing dilemma - it's acknowledged as being of great historical and cultural importance, but the general public finds it too difficult to learn.
Currently a series of Guqin performances are being held in middle schools, colleges, and universities across the country, in an effort to introduce this ancient musical instrument to the younger generation. Performing the shows are Guqin masters with an average age of over seventy.
Although Guqin was registered as one of the master pieces of the Oral and Intangible heritage of the humanity by UNESCO in 2003, which of course helped raise the public awareness of Guqin, still many find it too hard to play. Reasons include that the classical music education of this kind has hardly reached the general public, and secondly, it requires subtle finger skills to play the instrument well, which adds difficulty to the popularity of Guqin.
Wu Zhao, director of China Guqin Association, said, "Guqin has not been a popular musical instrument for the general public since ancient times. It is more like a symbol of Chinese high culture. Nowadays, Guqin is facing a harsh reality. There are few people who know how to play it, and Guqin concerts are becoming less and less. All these combined result in its relative unfamiliarity among the majority of the public. Many even confuse Guqin with Zheng."
Guqin has been traditionally favored by scholars and literati as an instrument of great subtlety and refinement. It requires sufficient educational background for both players and listeners to fully understand the beauty of the instrument.
To address the situation, Guqin practitioners and musicians are joining forces in cultivating a crop of young talents to carry on the ancient music tradition. Through a series of concerts as well as lectures and symposiums popularizing Guqin to the public, the instrument is expected to regain its former glory in the near future.
Related stories
Editor:Liu Fang |Source: CCTV.com